(I've posted this before, but it's at the bottom of a long fibery post and I am trying to go back and make sure all my recipes are single posts so that they are easily found and read. So, if you missed it the first time, this is one of my favorite salads!)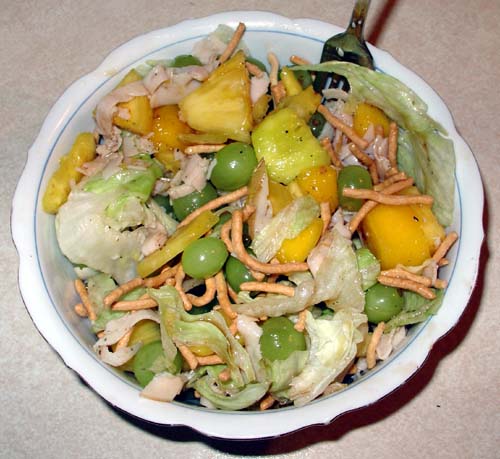 You need iceberg lettuce, mango, green seedless grapes, pineapple, and asian sesame/soy/ginger salad dressing, red wine vinegar, and rice vinegar, and chow mien noodles. Optionally, you can add an onion. You'll need your seasoning of choice as well. Salt/Pepper are probably fine, but I generally use Morton's Nature's Seasonings.
Chop up the mango and pineapple. Wash the grapes. If your grapes are huge, you may want to cut them in half. Cut the lettuce (I do it in shreds). Dice up your onion if you are using one. Put it all in a big bowl and toss well. Take the Asian dressing, and put it in a small mixing bowl. Add equal parts rice vinegar and red wine vinegar. Generally the total amount of vinegar should be almost equal to the amount of dressing you started with, but it's to taste, so play with it. Season to taste. Pour the dressing over the salad, toss until very well mixed. Add the chow mien noodles to the top, and enjoy.
Notes: Every once in a while I'll make this with some cilantro chopped up in the lettuce. Not a bunch, but enough to give a bit of flavor.