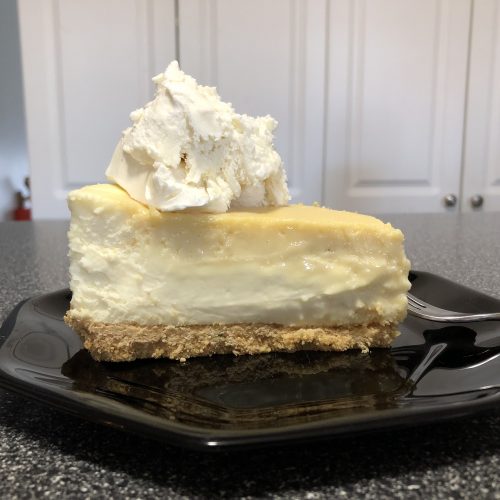 I meant to post this sometime in January, but I've missed that deadline now. Regardless, making this dessert was a good expiriment and one I plan to do again in the future.
I made this at Thanksgiving as an experiment. It turned out pretty well, and I plan on making it again at some point, but Thanksgiving and Christmas are too close together for this much cheesecake.
First…I didn't make up either of the recipes I based this on, and I used them as they were and modified just a few things.
I used, the standard Philly Cheesecake recipe, and the Nelly and Joe's key lime pie recipe. And then I just made some modificiations.
For the crust, I made a double batch and added the zest of one lime, but then only used 2/3rds of the total. I needed a thicker crust than the cheesecake called for to support all the weight, but not double the amount of crust, that would have been too much.
After I got the crust tamped down, baked off, and cooled, I whipped up the filling as per the directions and added 2 ounces of Nellie and Joe's key lime juice to that, and got it into a 350 oven instead of the recipe listed 325.
While the cheesecake was baking, I mixed up the Key Lime pie filling.
At 40 minutes into the bake time, I opened the oven and gently, oh so very very gently, poured the key lime filling on top of the cheesecake and spread it all the way out to the edges. The goal here is to disturb the cheesecake part as little as possible so you get two distinct layers, and the cake tastes different depending on where in the piece your is taken from. For the most part, I achieved this.
Cook the entire thing for another 20 minutes, and take out to cool until you can place into the fridge for 4 hours. I did my cake on Wednesday night for the Thursday dinner because I wanted it to have plenty of time to set up.
For topping I used the 2 ingredient no machine ice cream recipe found here. But it only sat in the freezer for about 4 hours the first night before we used it, and that was my prefered texture for it. After that it was basically plain ice cream topping.