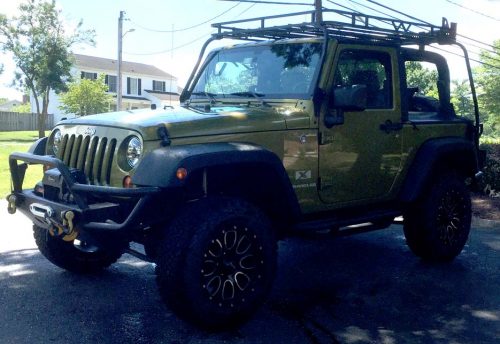 This year's summer jeep update took a bit longer to get to than last year, for a number of reasons.
We went camping on Memorial Day weekend this year and the hard top stayed on for that. Then the leftovers from tropical storm Bonnie (that hit while we were camping in the Outer Banks) made it rain for another week and a half straight, so it was mid June before the hard top came off.
Then, there was some bimini top drama. I had ordered a new safari style bimini top for this year because I wanted more shade in the back of the jeep, and better protection from rain blowback because I always keep the windjammer at least halfway down. (For those who don't know but want to, the bimini is the roof panel, made of cloth. It's only the roof and nothing but the roof. The windjammer is the "rear window" like panel.)
I spent the extra money to get the nicer Besttop Bimini top, and then it was on backorder, and then it got here, but it didn't fit the jeep quite right and I didn't understand why. I had read up on the top, I know I got the right version, etc. etc. (Jeep Wranglers are like Lego for adults. Just as pricey, and certain sets don't work with other sets.) It turns out, what they don't tell you is that they designed this for soft-top users, and soft tops have a door surround. And this fancier top hooks into the door surround. You don't have to have the door surround, but if you don't, it allows all the water ever right into the jeep. So I went back to my old bimini top (that only covered the front seat) while we figured out what we wanted to do. I had to decide whether to sink more money into the surrounds and knobs for this top, or if I just wanted to send it back and get the cheaper Quadratop safari bimini that would be like my current 2 seater one, but longer.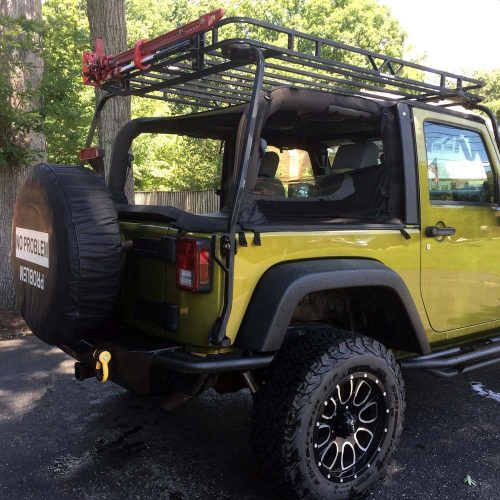 After some discussion, shmoo convinced me I wanted the door surrounds. He really liked the way the Besttop fit into the channels of the door surrounds and felt like that would be better water protection. It was a hard sell for him. I resisted for several weeks. I figure if you are going to take the top off, you're going to have to deal with some water problems, that's just part of owning a jeep and making choices like having no top. But I also like having a dry ass when I arrive at work, so he managed to talk me around.
While waiting on the surrounds to arrive, we also did some spot painting on the jeep's rack where it had rusted. We scraped, rust-primed, and then painted the spots that needed it and finally, Finally, FINALLY took off that wooden valence. Upon removal, I promptly notified Bruce it had been removed. :)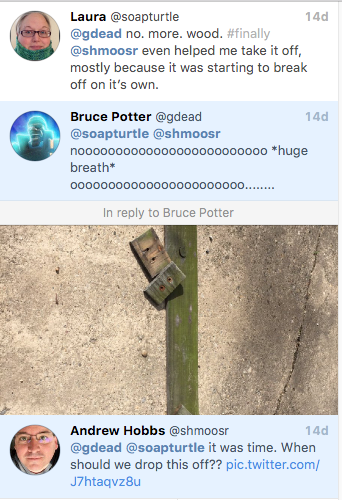 The jeep has also had some other work done on it since last summer as well. New bumpers with a wench. New wheels & tires. The old rusty rock rails removed and new side steps put on, and it's been lifted, so it's SUPER TALL now as well. I'll be honest, I could do without the super-tallness, but it was required for the wheels I wanted, which remind me of daisies, but in a subtle way.
I'm very happy with it now (not that I was unhappy…). I still don't have the spray on bedliner, but there's always next year.