That pretty much sums up my knitting life. :)
I did cast on for Kate Gilbert's Syncopated Caps from IK Summer 07.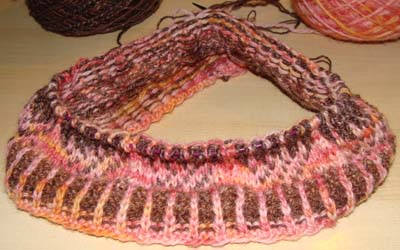 But I messed up the color dominance by not paying attention, and I have a specific way I want do it, and certain rows I wish to swap on, and I totally did it all opposite…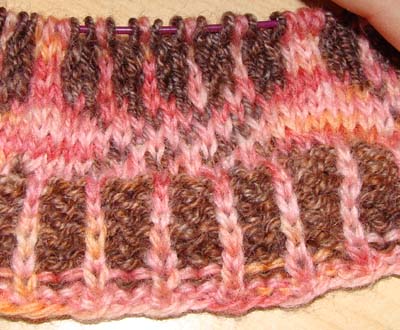 So I've taken it off the needles for now and am knitting a cotton liner for it first. Honestly, since doing the Bea Ellis hats, I think all good knit hats should have liners. It makes such a difference to the quality and feel of the hat. If you are going to take the time to make beautiful colorwork, take another day or two and whip out a boring cotton liner to go with.
I've also done a little spinning. I tried doing a cable plied yarn. Below you see 2ozs of cable plied merino tencel. I started the spyrogyra mitts with it, and the ribbing was divine. The actual stitch pattern? Not so much. So cable plied yarn, even when done kinda crappy for the first time, does make great ribbing (I'll test cables with it soon…) but can easily be over/underwhelming in certain stitch patterns.
And now, a funny shmoo story.
Last week he was suffering through watching Bravo's Make me a Supermodel, when one of the guys on the show was given a lamb to walk with and he told it, "Behave or I'll make you into a sweater." Shmoo looked over at me, rolled his eyes at the guy and said, "He could do that anyway." Girls, I have a keeper. He might not participate in my fibery love, but he tolerates it really well, and is willing to learn stuff about it. AND today I totally asked him about joining a sock club that a certain someone mentioned on her blog, thinking he would talk me down off the ledge of wanting to do it. He didn't! He said, "well, if it's for the year, why not?" That's almost…. like…. enabling!