First, the spinning photo I am overdue for.
4836|500
From left to right… 4oz Sakina Needles BFL, A batt I got from Caroline(WoolForBrains)'s Etsy shop, 4oz Cloverleaf Farms Merino/Silk 80/20 I got at MDSW 3 years ago. (It has a bright pink and purple hank of yarn waiting to do colorwork with it once I settle on a project. Can't decide between socks and cowl.) And my best attempt so far at copying my results from that Loop Iridescence batt I got and spun. The knitting bit at the top is where I did a huge mega swatch of those dyed locks I used as my first carder project. I am thinking it will end up being a dog sweater.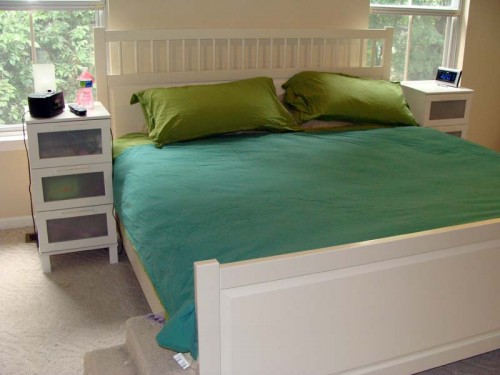 Second, two weeks ago we got a new bed. A KING SIZED ONE! And it's awesome. There is now room for shmoo and myself as well as the animals when they decide to join us and I don't end up waking up wishing I'd chosen to sleep on the floor because at least then I'd have some room. It's an Ikea Hemnes bed, which matches my dresser and the wardrobe I have in the craft room, and our side tables too kinda, except they aren't Hemnes. We got a foam mattress and the slats. And the instructions for how to put the slats together are inefficient at best. I did much better the 2nd set doing them my own way. Also, don't listen to how they tell you to do the bedamned metal supports on the bed either. Do them from side to side xing each other under the support part and you'll be way happier when your slats don't keep falling out because the sides of the bed just bowed out when you sat your fat ass down on the bed.
Finally, still no pics of my Clapotis. It's at work now, where mostly it hangs on the back of my chair, and I can use it when I get cold. And it's exactly what I wanted it for and it's perfect. I'll try to remember to take my camera to work so I can get a decent photo of it.
Oh! And I cast on for Calla and hope to have it done in time for when we go on vacation in October. And that it fits. We'll have to see on both accounts. I noticed the instructions called for size 5, 6, and 7 needles and has you cast on with the 5s, but never says to switch to another size… or if it does, I've missed it in the numerous times I have read over the pattern looking for it.