I have finished the Mossy Monkey socks, and cast on for Chuck's Cabled Socks.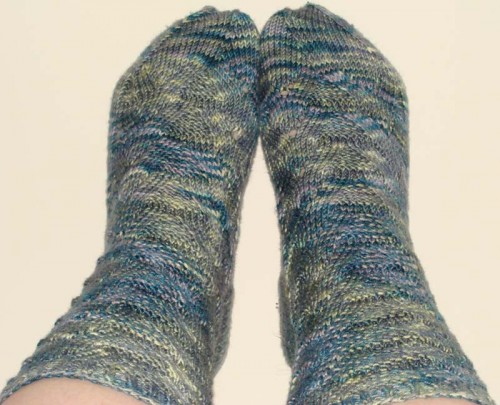 I am at the heel on the first Chuck sock now, so this image is a day or so behind.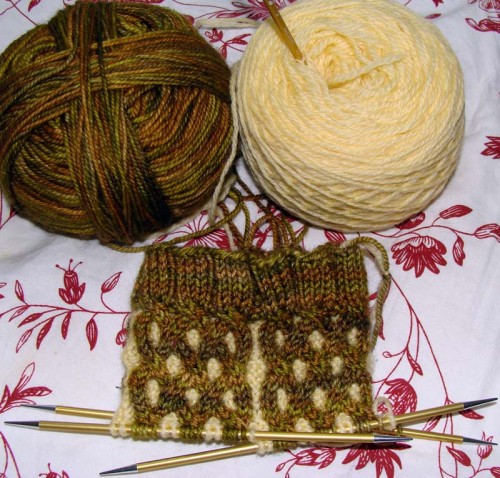 And note! Those are NEW Signature Arts fancy schmancy needles, oh yes, they are! I lost one of my 2s last Wednesday, and was highly distraught. I called them to see if I could order a single replacement, and I could, and I figured, screw it, I'll get a pair of 3s while I am at it, I am paying shipping after all…. So I did. And they got here on Saturday just in time for weekend knitting. And I love them. I think they are way way too expensive, but I love them, and will probably get a 3rd pair, in sz 1, at a future date.
I have also started designing some WoW socks based on a graphic in Ironforge. And dyed the yarn myself to get exactly the coloring and shading I was after.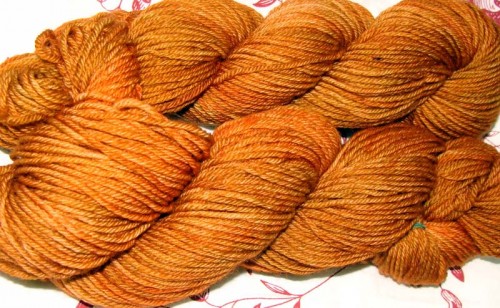 I used Wilton cake dyes and did the kettle method, brown over copper. And the base yarn is Dale Baby Ull in white I had in my stash. I've named the socks Magni and making the charting available for free on Ravelry when I am done.
I've also managed to cast on for a handspun shawl this week as well as abandon the tank top I was working on. Ok, I didn't abandon it, it's in time out. But still!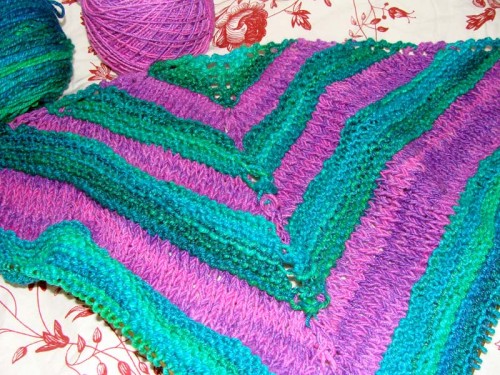 It's very bright, no? I believe shmoo said, "Wow honey.. those colors are… intense….." in that way that indicated he didn't understand my color choices. But I think I rather like it. Sure it's bright, but it's soft, and has texture, and it will be very cheerful on a cold winter day. And both yarns were handspun by me from fiber bought at my second MSW from Cloverleaf Farms. I believe they are 80/20 Merino/Silk, but I can't remember anymore, as it's now been a few years.
Tada! You are all caught up.
Recently: