Another year, another Maryland Sheep and Wool.
I picked up all the fiber below as well as two bobbins for my Wooly Winder.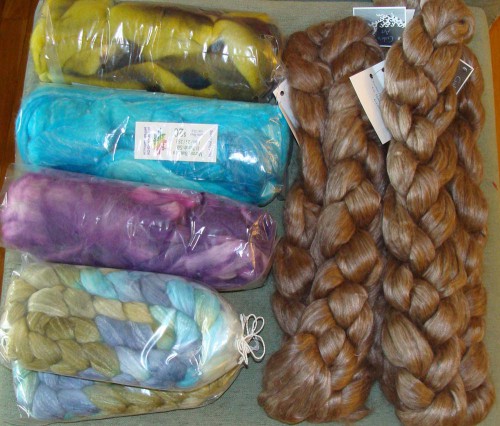 The stuff on the right is heaven. Naturally Chocolate colored Alpaca and Silk (70/30) and it's heaven to touch and spin. I had some gray two years ago, and last year she (Gales's Art) didn't have any when I got there, so this year I snatched up 5 braids. (Seriously, snatched. The girl behind me ended up buying 2 because she heard me say I was tempted to just clean them out and take it all.) It's very reasonably priced and just fabulous to touch. I am thinking a nice two ply to make a shawl with once I get it all spun up. But as I have several spinning projects to finish up first, it will be a while off.